Weekdays Bulk Billing GP Services (Kids under 16y/o & Concession Card Holders (by some doctors))
About Vitality
Vitality Healthcare Medical Centre is located at Shop 55 to 56, 81 Carrington Street, Adelaide, SA 5000. There are plenty of on street car parkings.
Our practice aims to provide a one-stop healthcare solution to you and your family through high quality general practice and allied health providers which are accessible, affordable and comprehensive. Our focus is prevention and health maintenance.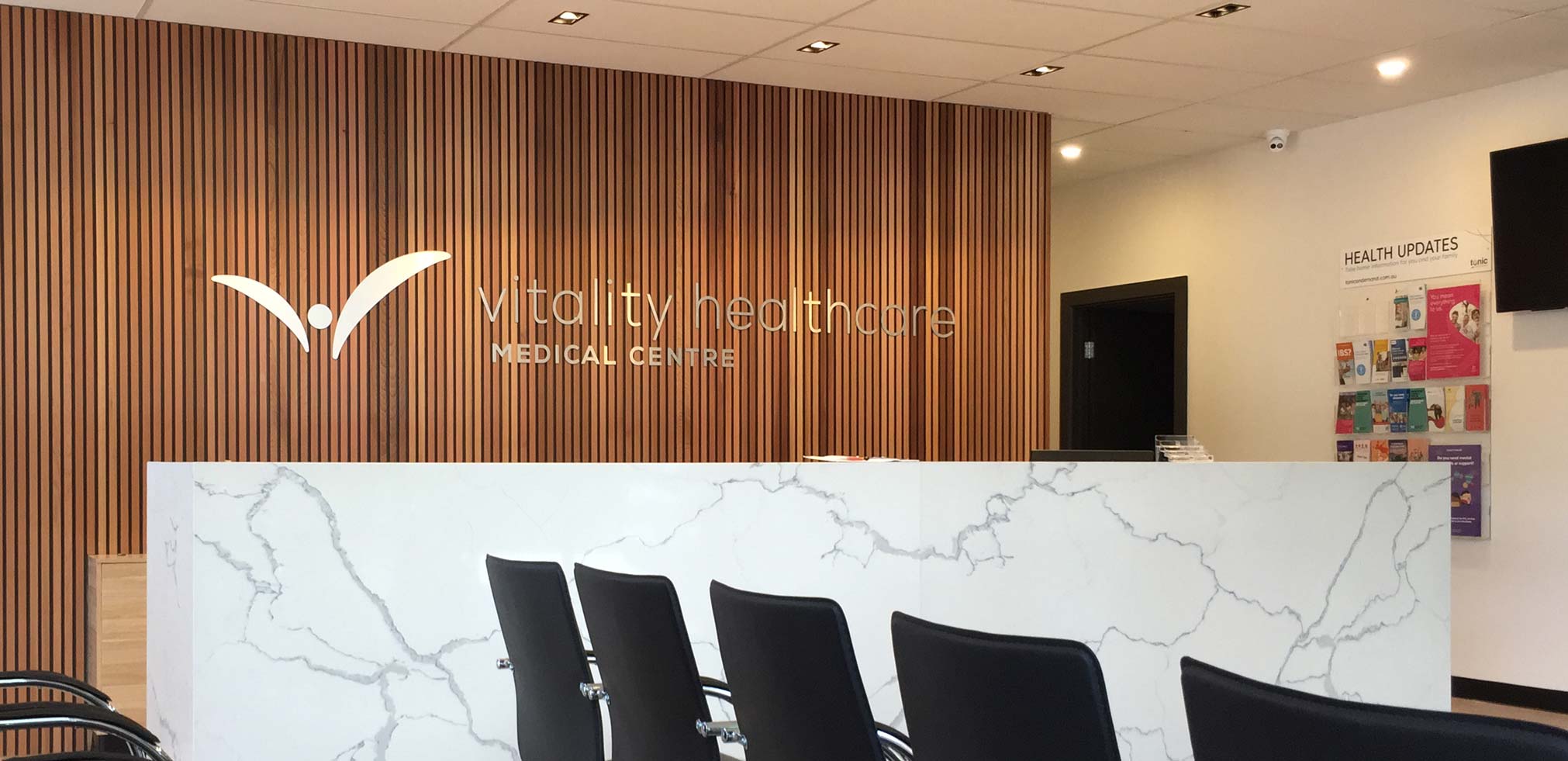 We are open Monday to Friday 8.30am to 6:00pm and Sat 9am to 2pm
We offer booked appointments with all our GPs, specialists and allied health providers
Please phone 08-8359 2911 for an appointment.  Standard appointments last between 10 to 15 minutes.  If you need an extended consultation, please request this when booking an appointment.
Note: A $35 fee will apply if you do not reschedule or notify cancellation within 3 hours of scheduled appointment time. This fee will need to be paid before you make your next booking.
In the interest of high quality health care, repeat prescriptions and specialist referrals will not be given without patient-doctor contact.
Sickness Certificates will not be issued unless a doctor has been consulted in relation to that illness.
After hours healthcare is provided by National Home Doctor Services on 137 425.
Home visits are available to our regular patients of this practice whose conditions prevents them from attending the surgery.  Please discuss your requirements with your doctor.
Our centre participates in the state/territory reminder systems which inform you on recurring healthcare issues such as annual check-up, care planning and immunisations.  Please advice reception staffs if you do not wish to receive reminders.  Patients will also be contacted for recall when clinically indicated.
Most issues are best dealt with in consultation with your doctor and he/she will endeavour to take your call where practicable.  At times, your doctor may be attending to other patients an may need to return your call.  Please inform our reception staffs if your call is urgent.
Test results can be obtained in a booked consultation.  Referrals to specialists must be made during a consultation and will not be provided from a phone request.
The holder of an Australian Disability Parking Permit may:
Park in a disabled parking zone showing the disabled symbol  on the sign or painted on the space on the road for the time limit indicated on the sign if any (no extra time granted in these zones)
or
Park in a normal parking bay 10 or 15 minute zone for up to 30 minutes
If the time limit on the sign is 30 minutes to 1 hour can park for up to 2 hours
If the time limit on the sign is greater than 1 hour the time limit for the Disability Parking Permit holder will be twice the period indicated on the sign
Please ensure if the zone you are parked in changes to a No Stopping zone, Bus zone, loading zone or Taxi zone at any time of the day the vehicle must be moved prior to the change occurring and the extension of time no longer applies.
The permit may be hung from the rear view mirror or displayed on the dashboard provided the permit details are clearly visible from the outside of the vehicle. The permit must be removed from the rear view mirror before the vehicle is driven.
Adelaide City Council does not require payment at ticket machines if a disabled permit is displayed!
(For other places outside Adelaide City Council areas, if a fee is payable to park on street you are required to pay for the time stated on the parking sign but do not have to pay for the additional time you are allowed to park. Please check with your local council for any other conditions.)